From September 18th to 22nd, 2016, the Sino-German workshop on 'Sources, Processes and Health Effects of Air Pollutants: Toward Health-Based Air Quality Management in China' proposed and organized by Prof. Xinming Wang (Guangzhou Institute of Geochemistry, Chinese Academy of Sciences) and Prof. Jean Krutmann (IUF-Leibniz-Research Institute for Environmental Medicine), was held in Guangzhou. This workshop focused on: (1) reducing health risk through mitigation/regulation of primary and secondary air pollutants in China; (2) strengthening collaboration between China and Germany in scientific research and technology development in the aim of tackling air pollution in China.
More than 80 professors, young scientists and graduate students attended the workshop. During the opening ceremony in the morning on September 19th, Prof. Gan Zhang, the deputy director of Guangzhou Institute of Geochemistry (GIG), started the welcome speech and introduced the history and main research directions of GIG, Prof. Rongkai Lu and Dr. Raoul Wagner, from Chinesisch-Deutsches Zentrum (CDZ) für Wissenschaftsf?rderung, introduced the operation situation of CDZ and Prof. Jean Krutmann gave a speech to appreciate the strong support provided by CDZ and all participants.
Thirty-one scientists from IUF-Leibniz-Research Institute for Environmental Medicine, Leibniz-Institute for Tropospheric Research, Institute of Energy and Environmental Technology, Institute for Energy and Climat Research IEK-8: Troposphere, Research Center Jülich, Augsburg University, Chinese Academy of Sciences, Perking University, Tsinghua University, Guangzhou Medical University, Fudan University, Sun Yat-Sen University, South China University of Technology and Jinan University were invited to give presentations on the workshop discussing key issues on 'exposure and health effects', 'emission sources and control strategies', and 'atmospheric processes'. In the last session, the attendees had further discussions on forming a closer collaboration between China and Germany in the future research work.
Vice President of National Natural Science Foundation of China (NSFC) and Director of CDZ, Prof. Congqiang Liu attended the workshop and delivered a keynote speech at the closing ceremony. Prof. Liu affirmed the workshop outcome and pointed out that air pollution had become a growing concern in China and air quality management had a significant practical meaning at the moment. He stressed that faced with the current air pollution and its health impacts, scientists from both Germany and China should share their experiences, make joint efforts and stick together as partners in order to meet the challenges, deepen the knowledge of air sciences and develop technologies for air quality improvement. NSFC would financially support the fundamental research and joint investigation on global assessment of ambient air pollution exposure and the resulting health effects. In the end, he suggested that researchers from Germany and China, in the area of air sciences and medicine, to work together on key issues relevant to air pollution and its health effect under the NSFC-DFG support.
After the workshop, German scientists visited the State Key Laboratory of Organic Geochemistry in GIG and Jinan University.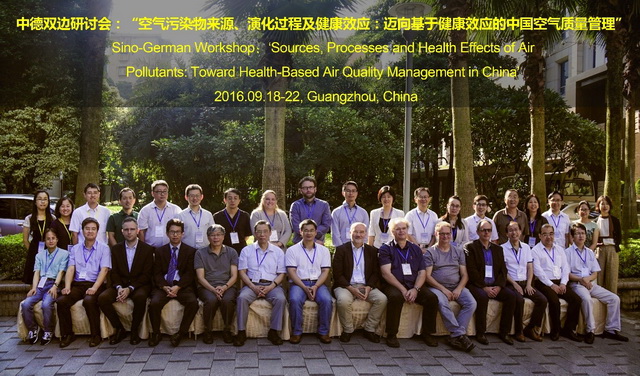 (Photographed by State Key Laboratory of Organic Geochemistry)