Polychlorinated naphthalenes (PCNs) are defined as persistent organic pollutants (POPs) because of their persistence, long-range transportability, bioaccumulation, and adverse effects on organisms. Technical PCN products had been widely used as insulators, lubricants, flame retardants, paint additives and so on. As technical PCN products has been phased out, atmospheric PCNs are contributed by reemission of synthetic PCNs once deposit onto soil, vegetation, seawater and ice, as well as unintentional emission from combustion processes such as municipal waste incineration, smelting and coking. The oceans are so huge that they receive massive PCNs originating from lands. However, air-seawater exchange is a reversible process. Thus, oceans may release PCNs, which could return to terrestrial environment following air masses moving from ocean to land. Knowledge on pollution of PCNs in the oceans, their sources and fate is scarce, so that there is a lack of understanding of the fate of PCNs in the ocean in a regional or global scale.
Dr. HUANG Yumei and Dr. ZHONG Guangcai from Guangzhou Institute of Geochemistry, CAS conducted research on pollution status and sources of PCNs in the air of equatorial Indian Ocean. Atmosphere gaseous and particulate samples were collected during a cruise at the equatorial Indian Ocean onboard the Chinese Research Vessel Shiyan I. The results show that PCN concentrations at the equatorial Indian Ocean were equal to or lower than the values reported for other oceans, seas, and lakes worldwide. Tri- and tetra-CNs were mostly the dominant congeners. Based on the analysis of patterns of PCN congeners, both of reemission of historic-use PCNs products and unintentional emission from combustion significantly contributed to PCNs in the air. As chemical products containing PCNs have been phased out, reemissions are expected to decrease gradually, but continuous PCN pollution due to unintentional emission deserves close attention.
Results of this work are published in the journal Marine Pollution Bulletin. This work is supported by the Natural Science Foundation of China (NSFC) (Nos. 41430645 and 41390242), and the early survey & research program of Sino–Sri Lanka Education Center of the Maritime Silk Road.
Huang Yumei, Li Jun, Xu Yue, Xu Weihai, Zhong Guangcai*, Liu Xiang, Zhang Gan. Polychlorinated naphthalenes in the air over the equatorial Indian Ocean: Occurrence, potential sources, and toxicity. Marine Pollution Bulletin, 2016, 107 240–244.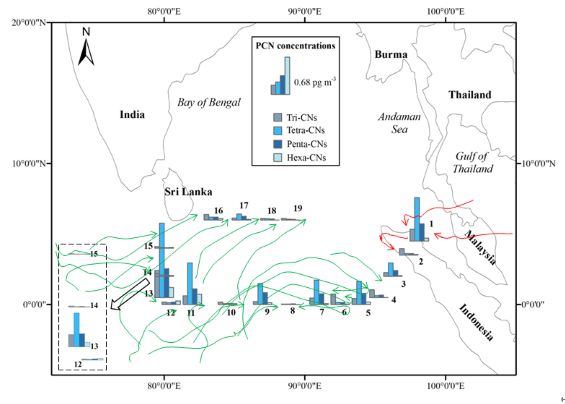 Figure 1. Spatial distributions and patterns of PCNs congeners in the air of the equatorial Indian Ocean. (Image by ZHONG Guangcai)
Contact
Doctor ZHONG Guangcai
Guangzhou Institute of Geochemistry, Chinese Academy of Sciences
gczhong@gig.ac.cn